Half of e-commerce spending in China will be on mobile devices this year:
Tech Asia reports that online shopping conducted on smartphones, tablets, and other such mobile devices will reach US $334 billion in 2015, mobile shopping will therefore account for an unprecedented 49.7 percent of ecommerce expenditure in China. Mobile commerce on this scale is unique to China. 'E marketer' suggest mobile commerce sales in China will be 450 percent of those in the US by the end of 2015.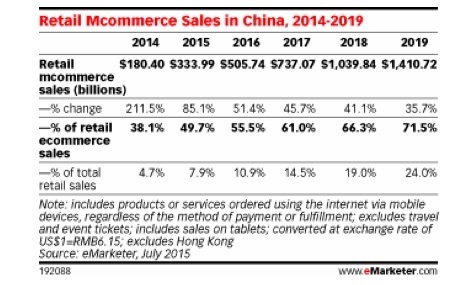 MARKETING TO CHINA AGENCY
We are the top and most visible Web & Marketing Agency for China you will find on the web. Our Services: E-Commerce, Search Engine Optimization, Advertising, Weibo, WeChat, WeChat Store & PR.
The Chinese are avid consumers and the rise of mobile e-commerce presents a significant opportunity for brands and marketers. It is thus important to understand the key factors which account for the growth of mobile e-commerce:
The 'smart phone' revolution
The 'smart phone' in China has been a huge success. According to the Q2 2015 smartphone findings released by 'GfK' the total sales of phones in the country has increased by 17 percent over the same period last year.
The increasingly sizeable and affluent middle classes desire these higher value, luxury products. With increasing disposable incomes and economic prosperity in China the sales of smart phones is only set to increase.
In conjunction with this trend comes the rising popularity of apps and services people can conveniently access whilst 'on the go'.
Consumer habits are changing with the increasing pace of life in modern China
China's economic rise is unprecedented.  The 'economic boom' has led to a progressive nation developing at an incredible pace. The Chinese work ethic is strong with long hours expected of employees.
The key appeal of mobile e-commerce in this context is convenience. With a faster, more hectic pace of life comes the desire for consumers to be able to shop 'on the go', people have less time to physically travel to stores. It is faster and more efficient to order goods online via ones mobile device. With urban areas becoming increasingly crowded and congested consumers often seek to avoid the crowds.
Mobile e-commerce is a unique, more individualized, experience
This form of technological consumption is a relatively new phenomenon in China, it is therefore seen as an exciting and dynamic way to shop.
In a sense it is a more 'individual' shopping experience. Users are not limited by any fixed time or location, the shopping experience through a smart phone becomes an extension of ones personal, daily life and routine.
Increasingly an individuals life is centred around their smart phone or tablet. It is a uniquely personalized digital space and incorporating shopping into this forum is no surprise.
Consumers are also not limited by the selection of high street stores, rather they have access to everything online.
Consumers increasingly engage with social media 'on the move', this encourages consumption 'on the move'
An increasing number of users access social media on their mobile phones rather than via their PC or laptop, this trend is showing no signs of stopping.  This greatly facilitates online interactions as the user can conduct their daily activities and engage with their social network simultaneously. It incorporates and brings social networking to the forefront of the users day to day experience, people can constantly express themselves and update their social media to more accurately reflect their life moment by moment. On Wechat as opposed to a 'status update' users post these 'moments'.
The rise of mobile e-commerce becomes increasingly conducted in relation to ones social network. 'Wechat' and 'Weibo' are  key networking sites where users will share their purchases. Social media mobile apps have encouraged this more 'mobile' form of consumerism by setting the precedent for engagement at any time or place. Social networking and purchasing habits are being incorporated into the users daily activities.
Apps such as 'Wechat' encourage 'shopping on the go'
The smartphone is increasingly seen as an integrated platform through which one's whole life is centred and co-ordinated. Tencent's 'Wechat' have launched a wallet app so you can pay for goods and products via ones Wechat account. The scanning of QR codes on Wechat (a phenomenon which has particularly taken off in Asia) is another way in which to interact with the world around using one's handset.
Wi-Fi networks are becoming more extensive in China
Improved Wi-Fi networks lead to better connectivity and provide a further incentive for users to engage in mobile e-commercial activities.
China Mobile has one of the fastest growing Wi-Fi networks in the world.
"Smartphones and tablets are putting onerous demands on cellular networks," said 'Wang Jianzhou' CEO of China Mobile. "Building out our Wi-Fi network is the fastest way for us to meet the increasing Web demand by our smartphone and tablet users, we can rapidly make our Wi-Fi network seamlessly available to our international partners and their users roaming in China."
There has been a proliferation of mobile, digital applications
China has been an un-ignorable opportunity for app makers across the globe, it is currently the world's top mobile market and has overtaken the U.S. to become the world's top country for both Android applications and iOS smartphones and tablets. With a huge range of services now offering convenient, easy to use mobile apps consumers will be more likely to find more 'shopping apps' catered for their specific needs.
This is an interesting digital trend and an example of the increasing appeal of digital platforms for the consumer. Now more than ever it is vital that you have an effective digital marketing campaign in China to capitalize on the huge potential opportunities in this lucrative market.
We are a specialist digital marketing agency, if you have any more questions, seek some advice or are looking to break into the Chinese market do not hesitate to contact us.
Further readings
Xiaomi : how to triple your sales in one year
Know how to properly promote your brand