Intelligent Student Recruitment in China
Having worked both in student recruitment, communications, and marketing in China I have seen the huge potential firsthand for overseas Colleges and Universities. The demand is at an all-time high yet so many institutions are struggling to tap into this. I have therefore developed an online student recruitment strategy that delivers results in a cost-effective way for institutions. Please see this article for an introduction to the strategy & contact me for more information.
At the risk of sounding cliché, we are arguably in a 'golden age for Chinese international study abroad. China, with its 350 million middle-class consumers is undergoing a seismic shift in terms of its values, tastes, and expectations, especially when it comes to standards of education.
As levels of wealth grow in line with GDP growth of 7% per year so does the prioritization of high-quality education. In evolving societies, this is always a key indicator of progress. The Chinese, as a result of the infamous 'one-child policy, invest heavily in their Children's future with an 'international education' highly prized amongst families and students.
The question is how do you grow the visibility and reputation of your institution in China to attract students in the most cost-effective way?
An academic understanding of the Chinese digital environment is required to leverage the huge opportunities presented by this evolving student market.
Student Recruitment in China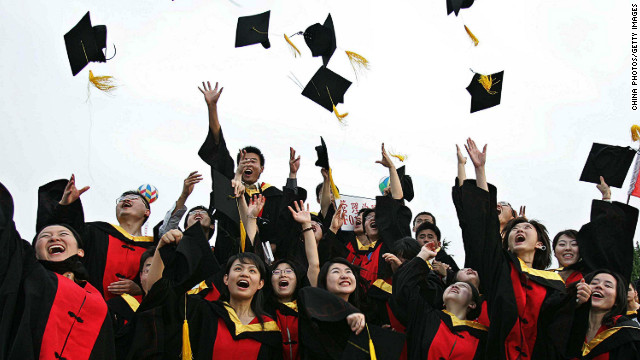 Intelligent Student Recruitment Program
The answer for Universities and Colleges is to develop an intelligent student recruitment strategy that is targeted and focused on your core student demographic. Understanding where and how your target audience is searching for information online is the key.
Additionally, you need to tailor your services to the Chinese market, what is your unique value proposition in this increasingly competitive sector?
Communications & Recruitment can be broken down into 3 key sectors:
Communications (e-reputation, press relations, social media)
Recruitment in China (Chinese Website Optimized for Baidu, Student Forums)
Alumni Management (Animation & Promotion of Alumni Success)
Student Recruitment Begins Online
China now boasts a 65% online penetration rate with some 900 million 'netizens' online. Chinese society has embraced digital & the web with a fervor rarely found anywhere else. Users are spending on average 1.5 hours per day browsing online and will research extensively for education opportunities/course information online.
The key is that China's digital sphere is cut off from the rest of the globe by the 'Great Chinese Firewall', this has resulted in a completely unique online eco-system when it comes to student recruitment.
Activity has to be tailored to Chinese-specific platforms.
Influencing the ranking of your institution (website & visibility)
This is key, the ranking of the institution has to be created anew on the 'Chinese internet', your previous reputation in English will (on the whole) not be seen by Chinese not using a VPN service.
China's 'Google' is Baidu. A giant that presides over 75% of the search engine market. It is thus vital to increase the ranking of courses and schools on this platform and should be regarded as step one.
SEO (search engine optimization) is a strategy that works to rank a University or College's official website in the natural search results over time. This is where the highest quality student prospects are found. Serious research goes into where to study abroad so parents (often the decision-makers) will extensively browse through Baidu results based on keyword searches.
You need to rank highly here. The strategy to do this is to create unique Chinese content, generate backlinks to your website and optimize the site for Mandarin Character keyword searches.
This approach can be complemented by PPC (pay per click) adverts which appear at the top of the news feed, however, the most serious student prospects will contact you through the natural search results.
Developing your presence in the organic and paid results
Growing your academic reputation & communication on WeChat
WeChat is the 'swiss army knife' of Chinese communication with over 850 million users, it is a vital tool for building your reputation. You need to create an official account for your institution and use this as a Launchpad for content.
In China, any serious education business is on WeChat. It is where you can communicate with student prospects and send Chinese tailored content via the instant messenger service.
Lecture notes and courseware can even now be sent via WeChat, with the launch of 'Mini Programs' there is even the potential to connect student enrollment with an official WeChat account.
WeChat Groups:
WeChat Groups are an important way of building following of students & parents. They can function as forums for Q & A and give you the opportunity to push relevant content to them.
WeChat 'Mini Site':
This is for the presentation of courses and services. A site can be built for Mobile and connected with a WeChat account but the best option is to develop an HTM5 series of pages that will function smoothly within WeChat.
Student Services on WeChat:
You can add parents and students into group chats to answer academic or student life related queries. Offering these kinds of services to Chinese students will set you apart. This communication line would typically be managed by a Chinese student liaison officer internally.
WeChat Newsletters:
A WeChat 'Service Account' allows for 4 posts per month that are 'push notifications', that is that they appear on every follower feed as a message with a notification, this increases their visibility and engagement rate dramatically (when compared to Facebook for example).
WeChat even offers 'templates' that can be automatically sent to students upon enrollment or after a request for more information.
Read more on Linkedin
Alumni Network Community Management:
Managing your Alumni network in China is important. You need to generate Chinese testimonials and highlight successful postgraduate stories. This is actually the answer to intelligent recruitment.
WeChat groups can be set up to gather together Alumni whilst forums and email platforms such as 'Eduxin' or 'QQ' can be used to send out regular Chinese newsletters.
In the Chinese E-Media successful graduate stories can be highlighted, the Chinese need to see real-world examples of a successful graduate.
Finding relevant stories, people and harnessing positive examples will increase your college ranking & reputation. E.g. Students working for a popular brand in China.
Student Chat Forums
Forums remain highly popular in China with sites such as 'Tieba', 'Zhidao', or Tianya boasting dedicated education threads. It is here that you can cultivate user-to-user engagement. It is a powerful communication tool when other students & parents testify to the quality of your teaching and courses.
The Chinese often turn to these forums as they rank highly on keyword searches on Baidu. Creating positive reviews will reinforce your institution's ranking and tap into this more collectivist attitude, parents & students will be looking for where others have had positive experiences.
Public Relations & Media Exposure
Increasing your exposure to targeted Chinese e-media sources is very important. News sites such as 'Ifang' or 'Sohu' are popular with pages/threads devoted to education. It is important that you are seen to be newsworthy in China when prospects search for more details. Reputation is everything in China and media coverage is a cost-effective way of building this.
A student recruitment program needs to be intelligent, flexible, and feature these different yet complementary components. Launching and attracting students from China is certainly lucrative but also difficult and highly competitive.
Case Study: Accademia Del Lusso. A huge success in China
Accademia Del Lusso was largely invisible in China before launching an intelligent campaign to grow their reputation and visibility on Baidu. The reputable school of fashion and design in Milan wanted to attract students to their Italian location and increase awareness of a new branch launch in Mainland China. (more information here)
Their reputation globally is very strong after winning both the 'Lifetime Achievement' and 'Leading Fashion School' awards in 2007. Having said this, because of China's distinct online environment, they had little presence in the Chinese market. The institution's goal was to increase its e-reputation through Baidu search engine promotion to rank highly in the natural search results whilst running PPC banner ads and links. They also developed their reputation on student forums.
Accademia Del Lusso drove 50 students 'leads' per month to their administration team on top of 10 000 visitors per month to their Chinese site. This is indicative of the potential growth in China with even a niche academic offering generating so much interest.
Who are we & How can we help?
We are a specialist student lead generation & marketing company based in Shanghai. Our international team of 25 makes us ideally suited to developing your interests in China.
We specialize in:
Website Creation, Development & Auditing
Baidu Search Engine Optimization
WeChat & Weibo Content Marketing
Reputation Management & Alumini Community Development.
Public Relations & Exposure in Chinese E-Media.
Analytics, monthly reports & analysis from our team of experts.
Education Marketing Agency for the Chinese Market
Devising the right strategy for this market is, therefore, the key. We are a specialist agency with a wealth of experience in Student Recruitment. For information please contact our expert for an in-depth discussion.
Further Reading: