We all know that QR Codes have exploded in China, much more so than in western markets. They have become an integral part of the digital and physical environment in China, so much so that it is hard to convey the scale of QR usage, one cannot imagine modern daily life now without QR codes. It is estimated that on daily basis users interact with QR codes 10-15 times and we now see them on most physical products, embedded in billboard ads, and even on clothing with QR patterns featured on T-shirts, dresses, and trousers. In essence, China has gone QR mad.
QR Codes in China
For western businesses operating in China, it is vital to capitalize on this infrastructure in order to successfully expand and tap into the vast potential number of Chinese clients and consumers.

What is a QR Code?
QR or Quick Response Codes were initially developed for the automotive industry in Japan, however, they quickly spread outside of the industry due to their fast readability and greater storage capacity than standard UPC barcodes. Applications include product tracking, item identification, time tracking, document management, general marketing, and much more. A QR code consists of black modules arranged in a square grid on a white background, which can be read by an imaging device. Data is extracted from the patterns present in both the horizontal and vertical lines. This unique coded square strip which when scanned (either online or offline) links to a particular page or completes a specific transaction, a single QR code can only relate to one task. In effect, it is like clicking on a backlink, but instead one simply scans the code on their smartphone.
QR codes are most commonly used in China to transfer payment, connect with other users, and as a link to an official page or content. From a marketing perspective, they are the most convenient way to drive traffic from offline to online, link and re-direct users when online, and more quickly complete a specified transaction.
Payment services
The largest third-party, digital payment service in China is Alipay. Secondly is WeChat pay. These e-wallet services link to a user's bank account and are based on QR codes. For ease of payment, the majority of stores in China now accept Alipay or WeChat pay. Consumers need to scan the QR code to make instant payments. In frantic, modern China this quick and more convenient method of payment reduces queue times in busy stores and restaurants.
Smaller stores will often scan the QR code on a user's phone and can then transfer payment to their own personal account, in this way many market stalls and pop-up shops can benefit from the convenience of this type of payment.

Social networking – WeChat
WeChat, the largest social network in China with over 700 million registered, active users and (not coincidentally) places QR codes at the heart of how users engage with the platform. WeChat has become the largest social phenomenon in China and has certainly helped to facilitate the widespread adoption of QR codes.
Users add one another by scanning each other's customized codes, they are embedded in a picture that can be edited by users. Content is also linked to in this way whilst payment via WeChat pay relies on stores either scanning the user or them scanning their payment code. A very effective way to grow your number of subscribers on WeChat is to drive traffic from offline to online with strategically placed codes linking users to your official account, this not only drives traffic but also encourages further engagement digitally.
Offline to Online Marketing / Cross Promotion
In the mobile age, QR codes are the bridge between offline and online. They are featured now on most packaging, receipts, and offline physical advertising such as billboards and leaflets. They are the key to driving traffic online, engaging consumers offline, and attracting them to your online digital marketing campaign. This is a very cost-effective method to increase your number of subscribers on social networks and encourage further engagement with your products and services online.
It also allows for cross-platform digital promotions online with Weibo content (a microblogging service with over 300 million user accounts) and forum information often featuring the QR code for an official website or the business's subscription account on WeChat.
Ultimately in China, you need to convert the majority of leads digitally as consumers have become used to finalizing transactions in this way. The online sales structure in China is one of the most developed now in the world and QR codes should be used to entice consumers to buy into you online.
QR codes are a mobile phenomenon!
There are now an estimated 550 million Chinese consumers with smartphones, mass-market affordable models by XIaomei and Vivo have encouraged this large-scale uptake of smartphone technology but it has also facilitated the rise of the QR code, QR codes are perfectly suited for the fast-paced 'on the go' engagement with products and services. See something of interest and want to learn more? Just scan. Instant payment, just scan. Mobiles are all equipped with visual detectors with the two largest Chinese APPS; Alipay and WeChat predominantly mobile APPS.
QR Code Content: a good way to sensitive
QR content should be exclusive and promotional. There needs to be a strong incentive provided to scan with many companies allowing users to unlock offers or access limited edition games or content. It is about tapping into the Chinese consumer's desire for exclusivity, they want to feel 'special'.
Some real-life examples, how are they used?
1) The Print out a selfie by Welomo
Some stores in China developed a fun new way of pulling in shoppers – and marketing themselves at the same time. They're doing this with a special selfie printer that connects with WeChat. If you're in a store you first need to scan a QR code on the printer's screen which automatically adds Welomo's official WeChat account to your contacts. Next, you select a photo from your phone's album to print, or take a fresh selfie, and send that to the printer.
This presents a further opportunity to monetize the pictures, they can be free or paid for by users. This type of technology could even extend into public spaces as the more mobile, gimmicky version of the 'photo booth'.
The QR code is really a more convenient addition to this style of promotion but really the effectiveness lies in this simplicity, it is essentially a tool for linking.
2) Gifting money to other users
Arguably the most satisfying use of QR codes from a netizen's perspective is to get something for absolutely nothing. Chinese e-commerce giant Alibaba launched a campaign last Chinese New Year (with their payment app 'Alipay') where users created and shared QR codes on social media. The codes encouraged families and friends to gift each other money, once the code was scanned money could be directly transferred into users' Alipay accounts. This was a reinvention of the traditional giving of red envelopes with money at important festivals and occasions and proved to be hugely popular, digitized red envelopes through personalized QR codes are set to be an even larger phenomenon for this year's festival.
3) Online shopping on the go
This example is very innovative. Whenever an eCommerce site markets itself in the physical world they need QR codes to act as a bridge to its online portal. They are looking to either promote the site and attract users or give regular users more easy access to their commerce platforms. Subway stations have become key sites for this type of activity with such a high footfall.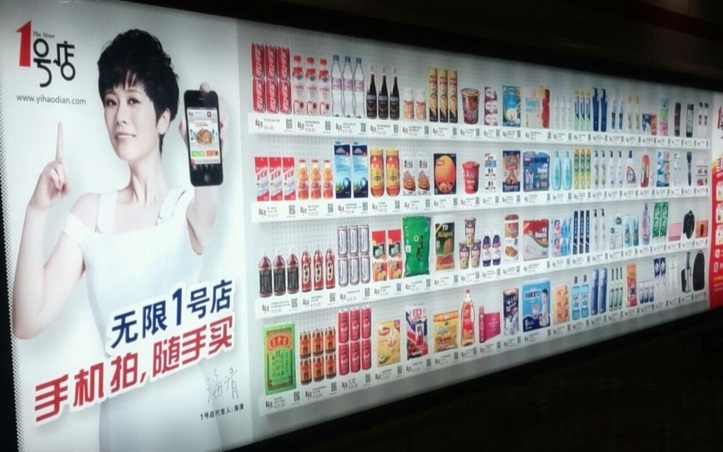 Here is an example of a pop-up e-commerce store that had posters featuring product images and a QR code for each item. People would scan the items 'on the go' and fill up a virtual shopping basket literally whilst on the move. People need more time to weigh up purchases on things like fashion items so this works much better for online grocery stores. We've noticed this strategy implemented in South Korea by HomePlus (the local name for Tesco), and in China by Yihaodian (the online division of Walmart). Even PayPal has launched similar campaigns in Singapore.
4) Fashion codes!
QR codes are not the most aesthetically appealing phenomena but this doesn't mean they can't be beautified and incorporated into fashion and branding. Students at the Esmod fashion school in Beijing rose to the challenge in 2012 to create hi-tech clothing.
One of the best examples was a dress made of a light-sensitive material (pictured above) which, when exposed to certain types of light, including a camera's flash, reveals a scannable QR code. There are certainly innovative options for physical branding on clothing as well as packaging.
Amazon Go and the future of QR Codes in China!
This author's prediction is that the launch of 'Amazon Go' in Seattle China will shortly follow suit; this is the new shopping service with no checkouts – consumers literally pick up what they want from the shelves and walk out with payment automatically taken from the user's account. QR codes are perfectly suited for automatic payment with Alipay and WeChat pay already hugely popular amongst consumers, the next step is to develop a virtual checkout and automated payment system in line with these technologies. Currently, it is still a novelty but China realistically can develop automated payment systems within the next five years on a grand scale. The uptake is likely to be very high with the digital infrastructure provided by QR coding already in place.
We are a wholly digital agency focused on lead generation and helping western companies expand in the lucrative Chinese market. We can be your partner on the ground in China and help you reach success with our years of experience and know-how.
Scan our WeChat and keep in touch 😉