Momo (Chinese: 陌陌) is an application of instant messaging and free located-based services. It is free and easy to download. It can be compared to Wechat. It works with every type of smartphone. To understand the concept, Momo offers to its users the opportunity to chart and meet some nearby strangers. Maybe, you will meet your future wife thanks to this application. The system offers you to see how many kilometers are separating you from your target! Momo provides free text messaging services. In addition, users can also send each other images, location information, and audio media messages.
Momo: regroups more than 20 million of active users in China!
The software is available for both Android and IOS.
The company was founded in March 2011 by Tang Yan, Zhang Sichuan, Lei Xiaoliang and Li Zhiwen. There are based in China, in Beijing, one of the most famous cities. Its international version was launched in October 2012. There are still limits to the number of friends and the number of users to join in group chat. At present moment, the English version of Momo just only supports one-on-one chat.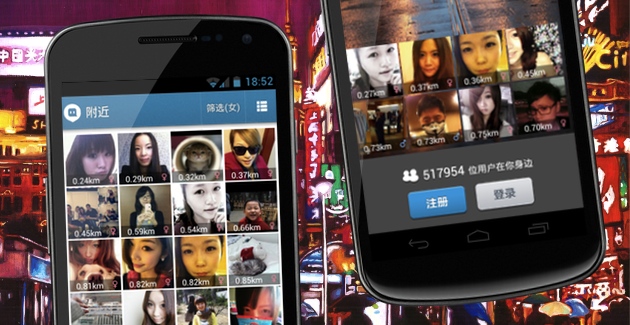 The "english version"
The application is also available in English and had a great impact on its reputation. Indeed, this application is used to meet people just by waving your smartphone. You can see how many kilometers are separating you from your soul mate! Foreigners like using this system of meetings. Applications like this one are very numerous on Android but "Momo" is one of the most popular. Its instant messaging service allows all users to chat in life since its creation in August 2011. In December 2011, there were half a million registered then a year later, there were more than 20 million.
Each person has a profile on their application and may share it with the public. Momo's first round was worth US$ 10 million and was led by Buttonwood Capital and Matrix Partners.  
If you enjoyed this article, you can download the application to flirt with other users!
More news about the Internet in China here: E-marketing in China