Promote B2B Services in China
Economic data released in October 2016, shows that China's economy has maintained stable growth with improving quality, and added value of the service industry accounting for 52.8 percent of the nation's total GDP. There has been a seismic shift toward the service industries in China as the nation moves towards IT, Commercial, Finance, Real Estate, and Education with these sectors booming in the world's second-largest economy. Indeed, the service industry is becoming a major employer, contributing more than 60 percent to increased tax revenue in the past three quarters.
With this dramatic shift towards a tertiary, service-based economy comes also changing attitudes and expectations in the way multinationals will do business in China on both sides of the Great Wall. The landscape for international business has undoubtedly changed internally and externally.
To Market a B2B Service Company in China: The Solutions are Online
China's online ecosystem is one of the most developed in the world. There are over 900 million Chinese connected online with Tech giants and domestic platforms dominating. Digital is the answer now in a society that revolves around online activity in B2B, B2C, and C2C. The Chinese, therefore, search online extensively for information before taking any decision, more so than any other society in the world.
As China embraces digital business like never before, many multinational service companies are left in the dark about how to generate leads, market their services, and develop the right sales funnels in this different online sector.
The online ecosystem is completely unique
Tried and tested strategies in the rest of the world do not necessarily work in China. The whole online sector is 'ring-fenced by the 'Great Firewall', this in effect cuts the internet off from the rest of the globe with state restrictions and regulations on what can be made accessible. This has left traditional digital players out of China and fostered the growth of highly advanced local platforms that cater uniquely to the Chinese user. It is on WeChat, Baidu, Sohu, and Weibo (etc) that you need to develop your lead generation and marketing strategies.
What you essentially have is the largest closed 'intranet' system in the world, it is not the open-source web multi-nationals are typically used to.
Without a presence on Chinese platforms regardless of your international reputation, you are essentially invisible, particularly as the vast majority of searches are conducted in Mandarin Chinese, and English content will not be picked up.
Online Lead Generation = The Best Solution in China
For this specific market, digital lead generation is the key for the majority of service industry companies. The 'Lead Generation' concept is an intelligent one, in China, you can target very specific communities based on demographic profiling, search interests, online behaviors, and keyword searches. Rather than attracting prospects to your services, you can go straight to them with a targeted offering.
Lead Generation is not merely a 'fishing activity but is based on this targeted, audience profiling data. For example, lead contact forms can be placed in targeted news feeds, applications, on websites based on keyword searches as well as targeted community forum threads.
The key is Digital Lead Gen offers the best ROI in term of both conversion rates and lead numbers for a number of reasons, the Chinese are incredibly active online, B2B and B2C is predominantly moving into the digital sphere, the Chinese research more extensively and information available on user behavior allows for more advanced targeting.
When you search for "service" you will start on Baidu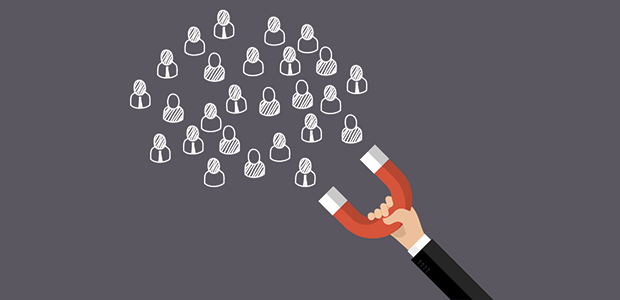 Visibility on Baidu (China's Google)
A staggering 75% of all first-stage research is conducted via Baidu, China's number-one search engine. It is the most effective portal for reaching targeted prospects. SEO (Search Engine Optimization) is about increasing your Chinese site's visibility in the 'natural' search results (not paid searches). Ranking highly here typically drives the highest quality traffic and prospects. Ask yourself; which serious professionals click on paid ads?
The goal is simply to drive targeted and qualified leads onto your landing page in order to convert. It is a traditional approach but in China, it works.
Your website needs to be built for Baidu searches and optimized for Mandarin Character keywords to ensure visibility over time. SEO is a long-term solution, it is about ranking highly over time and maintaining visibility, it can take a period of months to rank if you have no current presence in China. You have to produce quality, Chinese content, generate backlinks, and references, and focus on relatable keywords.
Targeted Paid Advertising: Reach Your Audience
PPC (Pay Per Click) adverts allow you to reach users also based on keyword searches, here you pay for your link to be in the paid results based on a series of targeted keyword searches. PPC is not necessarily a long-term solution as it can be costly but initially, it is necessary to gain traction and drive leads to your site landing page.
Banner & Display Ads are less advanced in China and are not typically as effective as PPC. You have to adopt the right approach that is tailored to the local market.
When it comes to PPC you have to consider; ad copywriting, titles, and descriptions and ensure the lead funnel is smooth and clear for prospects when they are driven to the landing page.
Optimizing your Site, Landing Page & Contact Form
The landing page needs to be optimized for Chinese Characters and in line with Paid Ad/SEO keyword ranking efforts. A clear and simple lead funnel needs to be built, considering that users need to be clearly informed of the next stage, not overwhelmed with information but adequately informed, and of course, kept on the page with few external links. A contact form needs to be simple, clear, and intuitive. Also, consider Live Chat tools in China, this is the most popular way for instant communication with prospects.
An example landing page developed for Ronald Serry Properties featuring a live chat tool and a navigable menu series.
Quality Content Makes the Difference in the Service Industry
Quality content is the difference between success and failure. How are you tailoring your content to the Chinese end-user? You need to re-adapt and re-work content to suit your audience in China, how is it relatable and what type of language/tone are you using, evidently a quality team of local copywriters is a necessity.
Baidu (like Google) rewards fresh content so it's important to produce this in order to rank highly. Prospects will also search online and browse extensively for relevant articles and information. You need to establish yourself as 'the international expert' in your field of specialism.
E-Reputation is everything in China (Utilize Chinese Forums)
The e-reputation of service companies is essential in our digitally-led information age. You need to understand that there is a problem of trust in China, many customers have previously been cheated by local companies with local customer service and business practices not famously of high quality in China. Being an international company, therefore, plays to your advantage but you need to create and reinforce a positive reputation.
Ranking highly in the search results is one of the best ways to build a reputation but also consider Chinese forums. These are still wildly popular with sites such as Zhihu, Baidu Tieba & Baidu ZhiDao ranking highly in the results based on keyword searches.
In Forums, you need to create user-to-user conversations around your company and services. This is powerful as user recommendations and testimonials are very persuasive in a more collectivist Chinese society. This can include links to your landing page for lead gen but the approach here is not to blatantly advertise, but rather build a reputation and generate discussion. It plays an important supportive role.
WeChat; The King of Communication
WeChat is the undisputed, dominant social tool in Mainland China? With over 860 million active monthly users it is now expected that all serious companies will have an official account and presence on WeChat.
The goal on WeChat is not necessarily the best method for grabbing the attention of prospects initially but it should be used to drive them to your WeChat account which in turn functions as a launchpad for further content and building the necessary relations with prospects via group chats and instant messaging.
An official account needs to be created that offers 'push notifications' to followers, they will see your weekly posts in their message feeds. This facilitates a greater level of interaction with leads than if posts just appear in their news feeds.
Exposure in the Chinese Media (PR)
A necessary component of any comprehensive campaign is a PR strategy. This is vital for credibility and legitimizing your service offering. The Chinese frequent news sites such as Ifeng, Sohu, News168 or Xinhua. Quality Chinese PR needs to be developed for publication and disseminated via the right portals to journalists. This type of exposure in the Chinese media needs to be curated and represented in the right way. Using a quality team of Chinese copywriters is key to relaying your message.
Tap into Influential Experts across China
In China, there is a powerful infrastructure for growth offered by influential opinion leaders and experts in their particular fields. These figures have built substantial followings and communities around themselves who consider them experts on certain topics. Service companies can recruit these individuals to represent their business and post positively about the business to their network. They will often have hundreds of thousands of followers.
It is important here to curate quality content for the post, build connections with the right influencers and monitor each post for user interaction/feedback in order to generate leads. Essentially foreign companies need to enlist the support of local and influential Chinese experts, this comes at a price but can pay dividends in the long term with significant exposure to targeted audiences built up around specific influencers.
We are a specialist digital marketing agency focused on the Chinese market, for more information please contact our team of experts for an initial consultation session on launching your business in China.