Starbucks is a popular coffee shop in America, but it has taken over the entire world. Over the years, the company has opened shops all over China and they are doing things differently than anywhere else. This article explores how Starbucks makes itself relevant to its Chinese audience.
Starbucks has adapted its brand for the Chinese consumer
Starbucks is a great example of how an American firm can successfully launch and remarket itself in a way that is appealing to the Chinese consumer. China is currently the second-largest market for Starbucks outside of the U.S. The corporation has plans to open 500 new stores in China by the end of the year. The company currently has locations in 90 Chinese cities and employs over 25,000 people in China.
This success is partly because Starbucks caters to the Chinese market effectively. A range of Chinese tea is sold as well as moon cakes and traditional desserts. Management has also factored in Chinese social dynamics and expectations. There has always been a very strong emphasis on the family in this society with management making an effort to get to know employees' families. The company said in a statement that; "family forums have been held for parents of store partners to hear managers discuss gratifying career paths at Starbucks." This is intelligent and reflects a high degree of research into wider Chinese society and the importance of Confucian values. This type of specialized, local knowledge is invaluable for any western firm.
Read as well: Why did Luckin Coffee not Outrank Starbucks in China?
The Chinese place greater emphasis on the social environment of the store
Many Chinese coffee drinkers, "place greater value on the experience and environment these cafes provide, rather than on the quality of the coffee itself," reports China Briefing. This demonstrates the importance of understanding and knowing the Chinese market. The Chinese have of course historically drunk tea and not this European style of coffee. The demand is perhaps not so much for the 'taste' of coffee but instead a real appreciation of the social environment it is consumed in. An environment of peace and tranquility is sought and this is what consumers are willing to pay a premium for.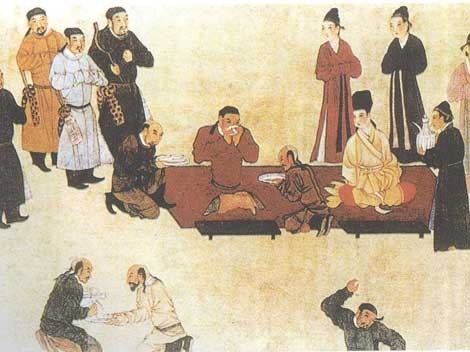 Collaborating with Chinese business partners
Starbucks announced a partnership with Chinese company Tingyi Holders to make and sell 'ready to drink' products in China. Laws and business practices can make it challenging for foreign companies to grow without local advice, knowledge, and networks. This example demonstrates that being able to adapt to this different marketplace often requires this kind of international collaboration.
Here are some examples of how Starbucks is marketing itself online in China
Starbucks has a Weibo account
Starbucks has an official Weibo account and markets itself on this popular social media platform. With over 500 million users it is vital to have a presence here.
As it is summer the chilled, iced lattes are featured as the main image, the Chinese will often drink through a straw as pictured.
The slogan 'falling in love with a latte' is translated into Mandarin Chinese, and an enlarged, elegant style of font is used.
Interestingly what Starbucks is promoting online is often not the 'traditional' coffee products we expect in the west.
Focus on variations of the product and additional merchandise
These brightly colored, 'Starbucks-branded water bottles are featured on the Weibo page.
The range of products is different with the company diversifying and promoting different products in the Chinese market.
The colors are different with brighter tones and Chinese-style graphics emphasized.
Starbucks has launched a WeChat campaign
There are over 1 Billion users on WeChat.
QR codes are embedded in the content being shared online. By scanning the QR code consumers have access to exclusive content with coupons and customized alarm tones.
Digital promotion across different platforms is employed with Weibo posts including QR codes.
The WeChat QR code has even been featured on the Coffee cups themselves.
Starbucks as friendship, providing a social context
This is a key theme with users often posting about their social interactions using the hashtag '#starbucks#' on Weibo. The social element of drinking is repeatedly emphasized with users posting up images of themselves with friends, this is especially effective in China as users particularly trust their social network, friends, and family.
Here you can see how Starbucks has adapted to the Chinese market and is promoting itself on key Chinese social networking platforms. It is vital to adapt your strategy in both the digital and non-digital sectors.
We are a specialist digital agency that understands the market and can help western firms to adapt and succeed as Starbucks has in China.
For more information see our website here.